Tot ziens Nederland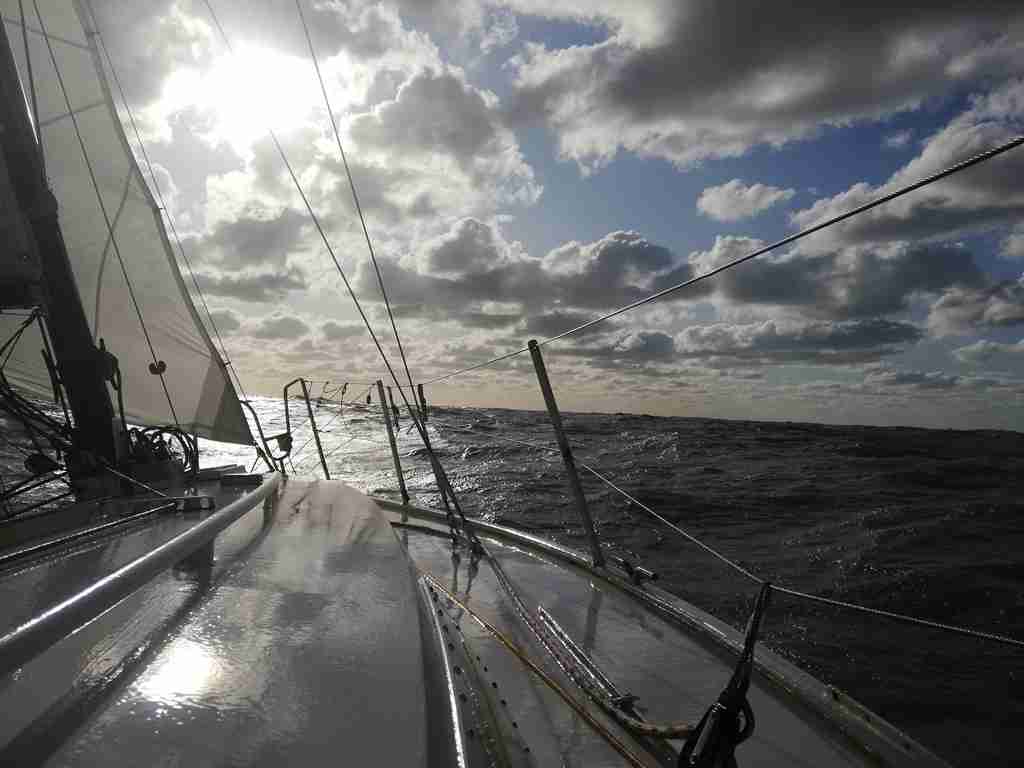 Nach 3 Tagen Rast ging es auf die letzte Etappe der "Staande Mast Route Süd". Nach nur knapp 2 Seemeilen mündet die Hollandse Ijssel in das Hollandsch Diep. Von dort durch die Volkerak & Krammer Schleusen Richtung Oosterschelde. Um 21 Uhr erreichten wir unser Ziel "Neeltje Jans" und machten an der Wartepier vor der Schleuse fest.
After 3 days rest we started the last stage of the "Staande Mast Route South". After only 2 nautical miles, the Hollandse Ijssel flows into the Hollandsch Diep. From there through the Volkerak & Krammer locks towards Oosterschelde. At 9 pm we reached our destination "Neeltje Jans" and stopped at the waiting pier in front of the lock.
Am folgenden morgen bekamen wir Besuch vom holländischen Zoll. Auf der Blueberry wurde die Farbe des Diesels kontrolliert und auf der Stardust die Steuermarken von dem Tabackpäckchen. Alles in lockerer Atmosphere, die Beamten waren Profies und 15 Minuten später hies es Leinen los und ab durch die Schleuse in den Vorhafen von Neeltje Jans.
The following morning we got a visit from the Dutch customs. On Blueberry the color of the diesel was checked and on the Stardust the tax stamps of the tobacco packages. Everything in a relaxed atmosphere, the officials were professionals and fifteen minutes later we went through the lock into the outer harbour of Neeltje Jans.
Der Rest des Tages wurde genutzt um die Boote Seeklar zu machen, geplanter Starttermin 05 Uhr 00. Um Mitternacht drehte der Wind von Süd-West auf Nord-West,begleitet von kräftigen Regenschauer, sogar 3 Fischerboote suchten Schutz im Vorhafen. Um 05 Uhr blies es immer noch in Böen mit 8 Beaufort so das wir erst mit 3 stündiger Verspätung ausliefen. Hart am Wind durch Vater Rheins Mündungsdelta, natürlich kam wieder unsere Welle und das erfrischende Morgenbad wurde mit lauten Fluchen quitiert, auch Lutz hat es wieder voll erwischt. Richtig interessant wurde es auf der Stardust als die Maschine ausfiel, jetzt fehlten 10 Grad am Wind und wir konnten nicht mehr in einer Kurslinie aus dem Delta hinaus. Also aufkreuzen und nichts wie ab ins tiefe Wasser. Nun hatten wir schon durch die Startverzögerung die Hälfte der mitlaufenden Tide verschenkt, auf gar keinen Fall durfte uns die kommende Gegenströmung im Delta erwischen, schon gar nicht ohne Maschine. Also Autopilot aus und das Optimum beim aufkreuzen rausholen, die Zeit tickert gegen uns …
The rest of the day was used to prepare the boats for the following journey, departure at 05 00 clock. At midnight the wind turned from south-west to north-west, accompanied by heavy rain, even 3 fishing boats sought shelter in the outer harbor. At 5 o'clock it still blew 8 Beaufort in gusts, we had to wait for another 3 hours. Tight on the wind through the Maas estuarine delta, of course our favorite wave hit again and the refreshing morning bath was commented with loud cursing, also Lutz got a full hit again. It got really interesting on Stardust when the engine failed, now 10 degrees were missing on the wind and we could not get out of the Delta in a straight course line anymore. Let's tack and move quickly into deeper water. We had lost already half of the tide caused by the start delay, in no case was it allowed to catch the coming up counterflow in the delta, certainly not without engine power. "Autopilot off" and get most out of proper tacking, time is against us …
Einmal draussen auf der Nordsee entspannte sich die Lage. Zwar drehte der Wind mehr auf West und wir stampften weiterhin gegen die See, aber die Grundseen waren kein Thema mehr, erst einmal raus aus den nassen Klamotten! Danach Fehlersuche am Motor, super Job bei dem gestampfe und 30 Grad Schräglage, für jedes Objekt wie Motorenlucke, Schrauben, Werkzeuge etc muss ein sicheres Plätzchen gefunden werden, sonst verschwindet es im Chaos. Wasser in den Dieselfiltern wurde schnell analysiert, durch das Gestampfe vermischte es sich und unser Yanmar streikte. Klarer Verschulden meiner Faulheit, noch am Vortag sagte das schlechte Gewissen "es ist höchste Zeit die Filter zu reinigen" … eine Stunde später schnurrte der Yanmar wieder – alles gut, jetzt eine heisse Muck Kaffee – yoohooo!
Once out at sea the situation became more relaxed, time to jump out of the wet clothes! The wind turned more to the west and we continued to stomp against the waves. Next troubleshooting the engine, great job in the tamping and 30 degrees tilt, for each object such as screws, tools, etc., a safe place must be found, otherwise it disappears in the chaos. Water in the diesel filters was quickly analyzed. Clear fault of my laziness, the day before my conscience told me "it is high time to clean the filters" … an hour later, the Yanmar sounded smooth again – all right, now a hot cup of coffee – life is good yoohooo!
Kurz vor Sonnenuntergang ein kurzes Funkgespräch mit der Blueberry, der Wind soll laut Wetterbericht wieder zulegen und wir waren der gleichen Meinung das eine heisse Dusche die bessere Option wäre. Also Ansteuerung Oostende in Belgien. Beim Einlaufen in den "Royal North Sea Yacht Club" wurden wir sehr herzlich von Simon, den Hafenmeister empfangen. Wie schon in Lauwersoog lautete auch hier die Parole "ruht Euch zuerst aus, Papiere hat Zeit bis morgen – Willkommen in Oostende"!
Shortly before sunset a short radio talk with Blueberry, according to the weather report the wind should increase again and we were of the same opinion that a hot shower would be the better option. Let's go to Oostende in Belgium. Once arrived at the "Royal North Sea Yacht Club" we were warmly welcomed by Simon, the harbor master. The same rules like in Lauweroog: "rest first, papers have time until tomorrow – welcome to Oostende"!
3 Wochen waren wir zu Gast in den Niederlanden und haben nur positive Erfahrungen mit Land & Leute gemacht. Die "stehende Mast Route" ist absolut empfehlenswert, jedoch besser zur Sommerszeit. Ob Schleusungen oder Brückenöffnungen, alles funktionierte tadelos ohne lange Wartezeiten. Wer diese Strecke zum ersten Male befahren möchte, sollte sich vorher auf https://www.varendoejesamen.nl/de informieren. Ein Tip zum Abschluss, die APP "Waterkaart Live" (https://www.waterkaart.net) enthält alle gewünschten Informationen über Brücken und Schleusen, wie Öffnungszeiten, Höhe etc. Bedankt, we komen snel terug 🙂
3 weeks we were in the Netherlands and had only positive experiences with country & people. The "standing mast route" is highly recommended, but better in the summer time. Whether locks or bridge openings, everything went without long waiting times. First time visitors should check first the website https://www.varendoejesamen.nl/en To finish, the APP "Waterkaart Live" (https://www.waterkaart.net) contains all the information you need about bridges and locks, such as opening hours, altitude, etc. Bedankt, we komen snel terug 🙂